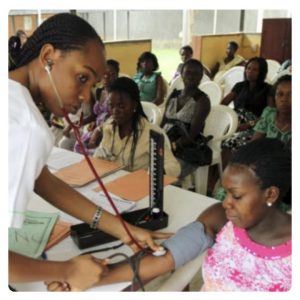 The Insurance industry in Nigeria has been applauded by the Federal Government of Nigeria for the provision of free life insurance worth 11 Billion Naira to 5,000 health workers. 
The President of Federal Republic of Nigeria, Muhammadu Buhari has commended the insurance industry in his address on the cumulative lockdown on Covid-19 pandemic at the State House, Abuja. The president stated that the government has procured insurance cover for 5,000 frontline health workers.
His statement reads;
"In keeping with our Government's promise to improve the welfare of healthcare workers.

We have signed a memorandum of understanding on the provision of hazard allowances and other incentives with key health sector professional associations.

"We have also procured insurance cover for 5,000 frontline health workers. At this point, I must commend the insurance sector for their support in achieving this within a short period of time."
However, Tope Smart, the Chairman of Nigerian Insurers Association (NIA) said they were happy that for the first time, their role is being appreciated in the country. He stated that the recognition will further spur them to do more.
The Nigerian Insurance Industry supported the Federal Government by providing N11 billion life insurance cover to the frontline health workers employed in the fight against COVID-19.
Sunday Thomas, the Commissioner for Insurance revealed the cover will enable families or named beneficiary of any medical doctor that dies in the line of duty to claim N3million; Pharmacists/Nurses N2million and others N1million.
He said the premium which is in the sum of N112,500,000 for the cover has been fully paid by the Nigerian Insurance Industry in line with the principle of No Premium No Cover, stressing that a total of 19 Life Insurance companies have been accredited to provide the Cover.
Thomas posited that the cover is for a period of 12 months effective April 14, 2020 and that in event of any fatality, the relevant agencies of government will immediately advise the lead Underwriter – FBNInsurance Limited who will make request for relevant documents needed for payment of the claim.
Share this on social media